Home
Welcome to Sicily, in the province of Agrigento, to the beautiful city of "Porto Empedocle". Your destination stands at the foot of Montserrat hill: "Marebosco B&B", occupying the top floor of a family villa, adjacent to a green forest of eucalyptus trees and surrounded by a beautiful garden of about 2000 square meters. It is an oasis of peace and serenity.
Just outside of town, about 1500 meters from a wonderfully blue sea, our B&B is a few kilometers from the "Scala dei Turchi"(aka: Turkish Stairs), a pleasant cliff of marl.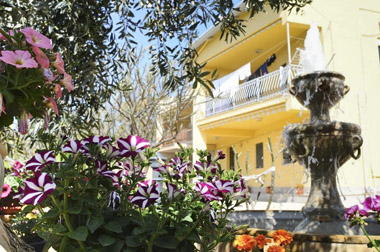 Sicily, our beautiful island, is an immense field of cultural heritage representing various eras and civilizations. If you love art and archeology, or want to explore cultural traditions of the past, you can easily visit the beautiful Valle dei Templi. Recently recognized by UNESCO for its cultural patrimony, Valle dei Templi, with its majestic ruins, houses one of the most ancient and admired religious civilizations. In February the famous almond blossom makes its appearance; and throughout the year you can enter the home of the great Luigi Pirandello, the pride of our city and all of Italy.
Our location is both convenient and strategic for your trips around the hinterland of Agrigento and nearby provinces. Visitingthe important neighboring sites, it is easy to fall in love here while discovering the pleasures of our rich history, adventuring through the countryside, and tasting the flavors of our Mediterranean cuisine.
Given its prime location, it is also possible to access the islands of Linosa and Lampedusa easily, either by ship or by speedboat.
Ours is a very spacious villa, on two levels, with private entrances and parking area for cars. The apartment is equipped to accommodate family, couples,and friends. It is also possible to book for periods of varying duration, biweekly or monthly depending on the needs of our guests.
We take pride in the maintenance and the extreme cleanliness of the rooms at Marebosco B&B. Our great sense of hospitality distinguishes us as Sicilians, as we will do everything we can to make your stay unforgettable.
Hopefully yours,
Salvatore Alongi